I've been thinking recently that my memories are most often related to what I remember hearing at the time...as in a song on the radio triggering memories of where I was when I first heard it. This morning I was catching up on reading
my cousin Eva's blog
and followed her link to this picture: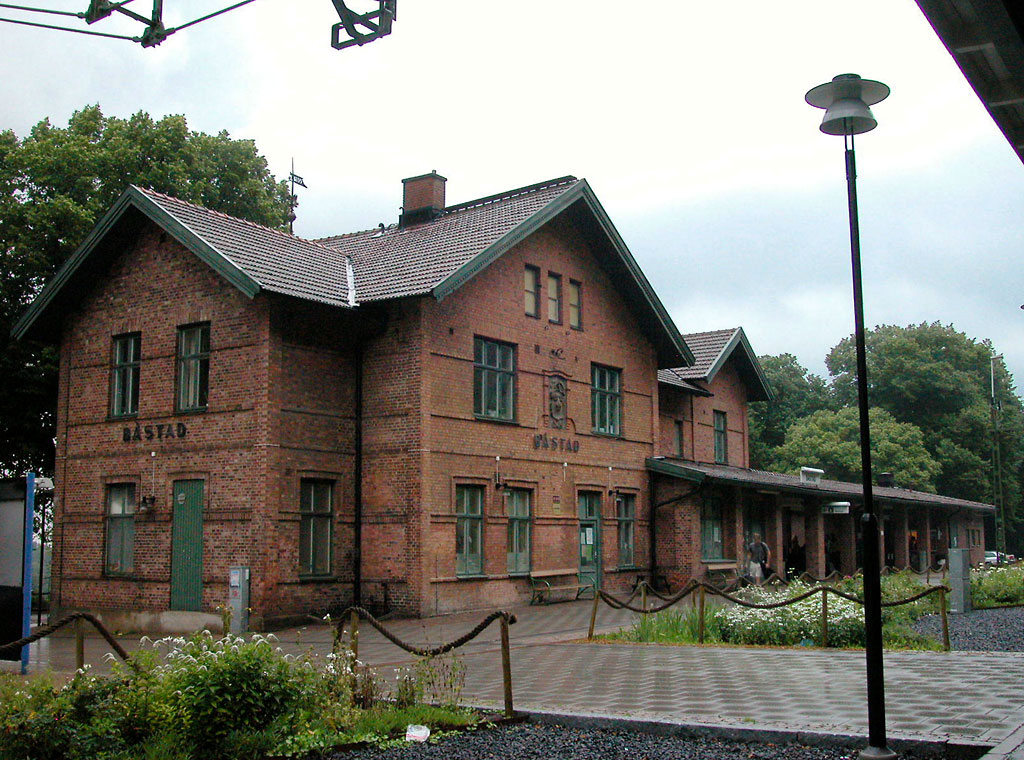 The train station in Bastad, Sweden.
I cannot begin to tell you the memories that instantly flooded my mind when I saw it: automobile horns blaring, smells of candy and freshly baked breads and brewed coffees, the frustration (at missing the station completely and having to go to the next stop at Laholm and turn around and come back to Bastad), but most of all a feeling of eager anticipation! When our daughter Kristin and I first traveled to Bastad in 1993 (I think) we were meeting our Swedish family for the very first time. You see, after my maternal grandmother Augusta had passed away in 1963, we had lost all touch with her remaining family in Sweden. Through the help of friends and a lot of genealogy searching, we had gotten back in touch, so Kristin and I were off to meet them. What a magical trip it was! They greeted us with open arms and treated us like queens. I felt like I had always lived there....and a part of my genetic code seemed to pick up where Augusta had left off. I feel so fortunate to have found my family again, and to have Eva as "one of my very best friends in the whole wide world"!!
Just a little trip down memory lane in January 2007.
I've been playing catch-up around here since returning from my idyllic week of classes at John C. Campbell Folk School. So much to do here on the home front! Cindy, one of my classmates, has formed a Yahoo group for us, so we can all keep in touch and view eachother's works. Thanks Cindy!!
Here is one small piece that I have been painting:
It is going to be part of a new Radiant Suns wall hanging that I am working on. When I get it incorporated into the body, I'll show you a pic.
It's cold out this morning....34. BRRRRR! I have some silk "dyeing" in a crock pot and will hang the pieces out on the line in just a little bit...after I finish my coffee and summon up the courage to go outside to my little clothes line.
Last night my friend Barbara presented the second in a series of programs on walking the labyrinth at our Great Wednesdays at Grace program at church. She and husband Chuck have a portable labyrinth, which they brought and set up in one of our rooms by the Parish Hall. After the program, those of us who wanted to, were given the opportunity to walk the labyrinth. It was so powerful for me. I had first seen and walked the
labyrinth at Grace Cathedral
in San Francisco, quite a few years ago. I've never forgotten that experience. Last night was even more amazing. Thanks Barb and Chuck.
Speaking of San Fran, C and I watched the documentary
The Wild Parrots of Telegraph Hill
last night (I'll bet you've watched that Debra). And what memories came flooding back then...seeing Coit Tower in the background of so many shots. We both agreed that a trip West is looming on the horizon. Yummm: lunch at
Swan's Oyster Depot
and dinner at
Spenger's
, the site of our first date some 36+ years ago!
OK, I'm off to hang up that silk to dry and tackle the new quilt block! Thanks for indulging me with my walk down memory lane.
Hope you have a wonderful day wherever you are, doing whatever speaks to your soul.